A Different Kind of Masterpiece
Beauty is in the eye of the beholder; Beauty is art. To celebrate beauty where ever we may find it. All that delights the senses, visual, auditory, taste, touch and be it natural, man made, culinary - eye candy in general and sensory delights.
Sunday, April 30, 2006
TO VIEW ARTWORK IN ITS ENTIREITY, CLICK ON ARCHIVES BELOW PAGE
NATURE'S MIRACLES
The Incredible Complexity of Nature's Creation - the Eye. Closeup of Bengal Tiger's Eye
The eyes of living creatures are so incredibly complex that it is difficult to comprehend that such miracles could have been developed accidentally!!
Labels: nature's miracles-the eye
NATURE'S BRUSH STROKES
Autumn Leaves Reflected in lake:
When Go
d pai
n
ts
Parrot's Rainbow Feathers
Close Up of Inside of Moth Orchid
Tulips
Labels: nature's brush strokes
SUN'S GIFT OF NIGHT TIME BEAUTY
Green Aurora Borealis
Green Aurora Borealis
Blue Aurora Boreali
For more photos of Aurora Borealis click on to:
http://creation-art.blogspot.com/2006/05/suns-magnificient-gift-of-night-time.html
Labels: sun's art -aurora borealis
Thursday, April 27, 2006
NATURE'S MASTERFUL SCULPTURES
SLOWLY, WITH WIND AND WATER, NATURE SCULPTS GRACEFUL SHAPES IN STONE
NATURE'S GREATEST SCULPTED MASTERPIECE, THE GRAND CANYON. OVER THE AGES SHE LAY DOWN STRATA AFTER STRATA, THEN WITH WATER AND WIND SHE CUT DEEPLY INTO THE ROCK FACE TO CREATE HER GRAND WORK.
(For more of nature's sculptures, see Creation Art at:
http://creation-art.blogspot.com/2006/05/colorado.html
and
More of Nature's Sculpting
on this one, when you get to bottom, click on #3. At the end of each page, click on the next number to see more photos. To see enlargements, click on thumbnails (small pictures), then click back arrow to return to page.
See all posts below Colorado post. . Utterly magnificent earth sculptures! Marvelous scenery.
Comments:

Labels: earth's sculptures
Living Masterpieces 1
Close up of Sea Anemone - flower-like animal
Zoanthid colony, Rikoriko Cave, New Zealand. Lovely, flowerlike creatures.
(More Later)
Labels: living art
Man's Homage to a Spiritual Leader
Buddha, Jungle Cave Monastary, Sasseruwa, Sri Lanka. Note size of human in relation to size of Buddha.
(More later)
Labels: man's sculptures
PRIMITIVE MASTERPIECES
No modern artist with canvas and most up to date paints could rival the excellence of this work of art by a cave man 15,000 years ago.The line, form, shading of color, light in shadow is exquisite.
Talented artists such as those who painted the following masterpieces painted on rough, porous stone cave walls. Many cleverly used knobs, protrusions, concavities and cracks to creates a 3-D effect with their artwork. For pigments he used charcoal or manganese for black; he ground plants, berries, and ores such as ochre (limonites) and hematite(siennas) into a powder to create other colors. The needed ores were often found as far away as 25 miles. As binders he used saliva, water, urine, albumin, plant juices, animal fat and bone marrow. To apply the pigments he used fingertips, pads of lichen or moss, twigs either sharpend, frayed, or tied with horsehair, feathers, and tufts of animal hair. He knew how to create an air brushed effect by blowing paint through a hollow bone or stick. For some effects he blew paint directly from his mouth.
Throughout history dedicated artists have struggled with hardships in order to project their inner visions onto external surfaces. Cave paintings were not executed near the mouths of caves, but deep into the dark recesses. The dedicated artist of thousands of years ago suffered the labors of producing his pigments and applicators, he had to paint by the light of burning faggots or torches. Imagining the difficulties thus encountered instills in us an even greater appreciation for the remarkable talent and passion of the cavemen artists.
Bison, late Magadalenian Period, 13,000 B.C.
These two: Graceful lines
Deer; Excellent proportions and conformation; graceful swooping curve of antlers.
Horse and Bull, Lascaux cave. Note the delicacy of the horse's head, like a pure bred Arab.The strong, heavy lines of the bull, denoting strength and power. No doubt the bulls were formidable adversaries for the cavemen.
Labels: primitive art
CULINARY ART
WATERMELON CARVINGS
THAI FOOD ART:
The Fruits of Their Labour
Art is a fruit that grows in man.
- Jean Arp

According to Thai lore, for the Royal of Festival of 1364, artist Nang Nopamas decorated a floating lantern with a variety of fruits and vegetables carved to resemble a delicate three-dimensional flower. Floating down the river in the moonlight, the lantern looked like a huge water lily, and so charmed King Phra Ruang that he decreed the carving technique a heritage of Thailand, a tradition to be taught to all Thai woman and passed down through the generations. Seven hundred years later, Ka-Sae-Luk, which translates to art carving, is still a thriving art form in Thailand.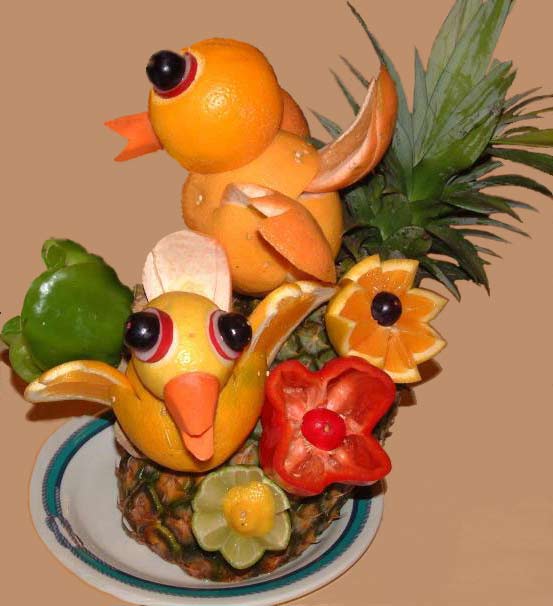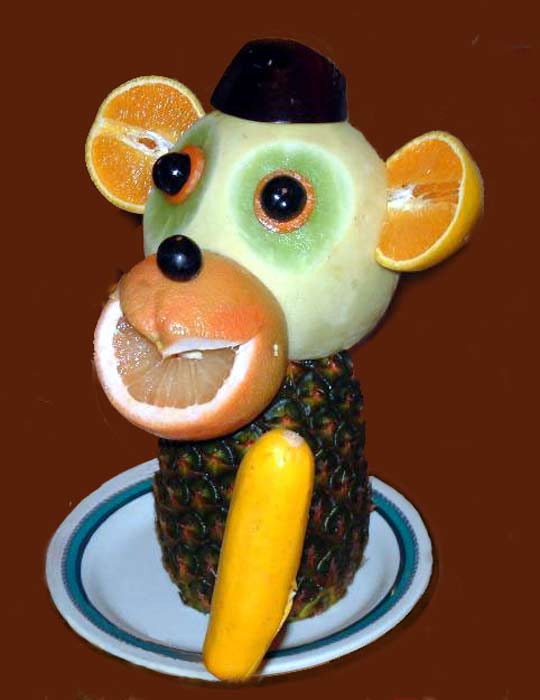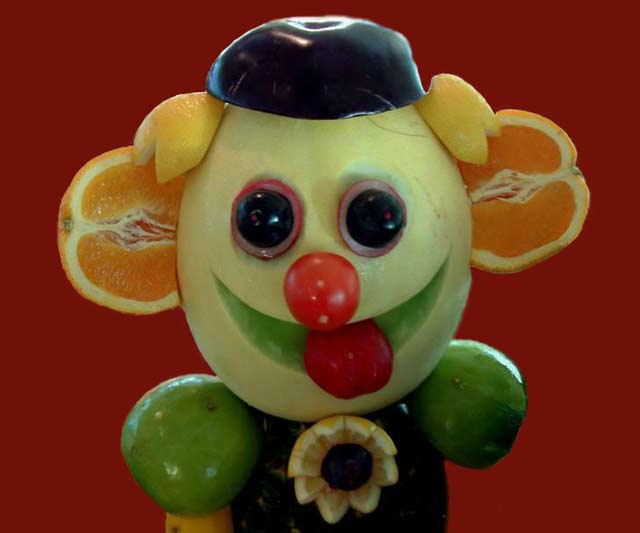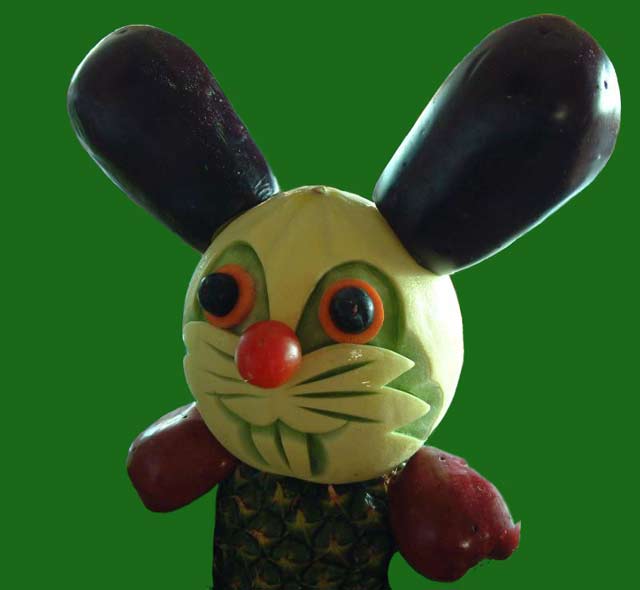 The average time for a carving is about four-and-a-half hours, and that most pieces will last five days if kept moist and refrigerated. The average cost is US$50 - 200.
Or - you COULD try your hand at it yourself carefully using an exacto knife...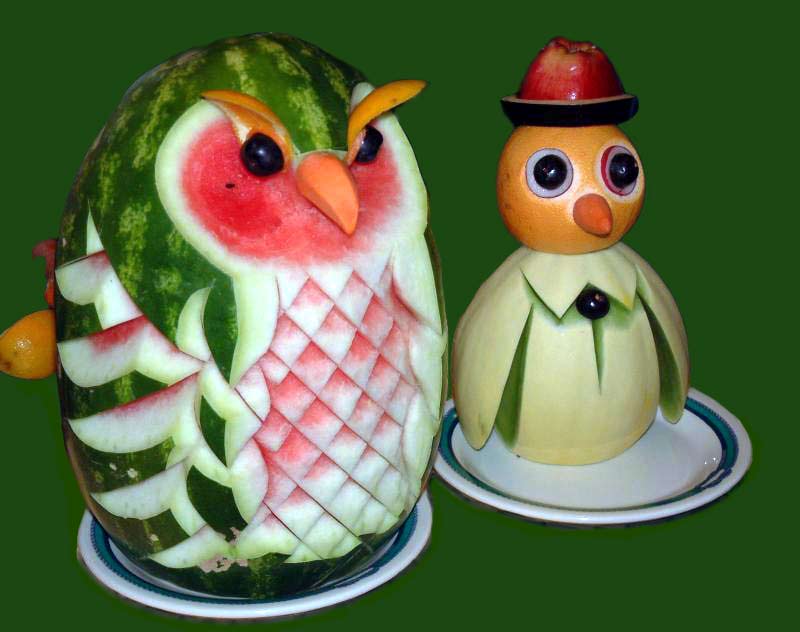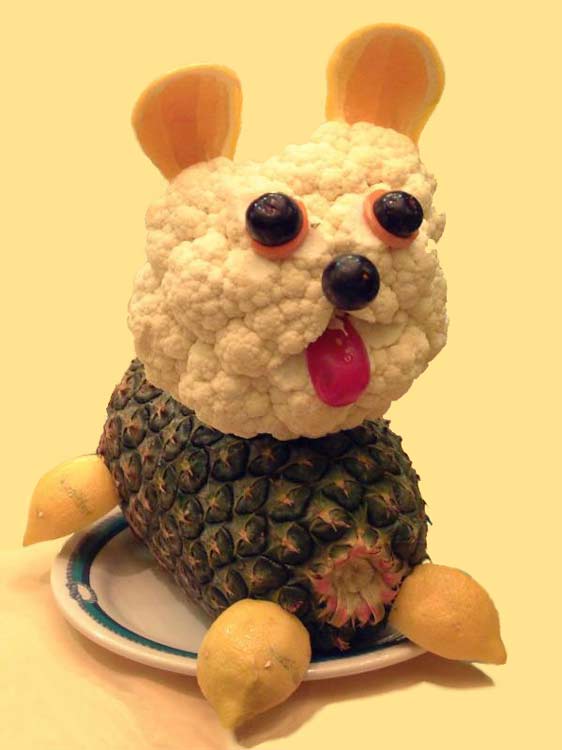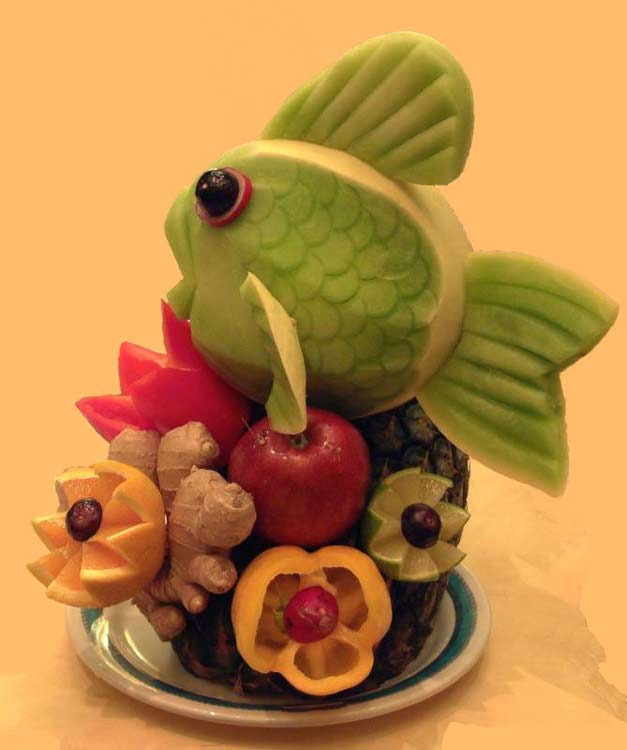 Would you prefer to start on something simpler?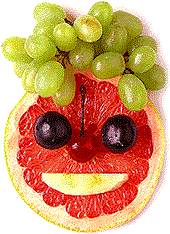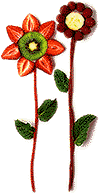 Sources: www.zwire.com/site for text and familyfun.go.com for the small illustrations. You might try that site for instructions on how to make the simpler items to get you started. They suggest:
Eyes and Noses: Peas, corn niblets, carrot rounds, black olives, black beans, cereal, nuts, seeds or raisins.

Hair:

Broccoli or cauliflower florets, grapes, fresh dill or parsley, or cooked fusilli or other curly pasta.
Legs: Thin celery or carrot strips or pretzel sticks.
Glues: Peanut butter, mayonnaise, cream cheese, jelly, yogurt, catsup, mustard, pizza sauce or honey.
Labels: culinary art
Archives
April 2006 June 2006 January 2007 February 2007 December 2007 January 2008 February 2008 March 2008 April 2008 February 2009 March 2009 April 2009 May 2009 June 2009 October 2009