Beauty is in the eye of the beholder; Beauty is art. To celebrate beauty where ever we may find it. All that delights the senses, visual, auditory, taste, touch and be it natural, man made, culinary - eye candy in general and sensory delights.
WATERMELON CARVINGS
THAI FOOD ART:
The Fruits of Their Labour
Art is a fruit that grows in man.
- Jean Arp

According to Thai lore, for the Royal of Festival of 1364, artist Nang Nopamas decorated a floating lantern with a variety of fruits and vegetables carved to resemble a delicate three-dimensional flower. Floating down the river in the moonlight, the lantern looked like a huge water lily, and so charmed King Phra Ruang that he decreed the carving technique a heritage of Thailand, a tradition to be taught to all Thai woman and passed down through the generations. Seven hundred years later, Ka-Sae-Luk, which translates to art carving, is still a thriving art form in Thailand.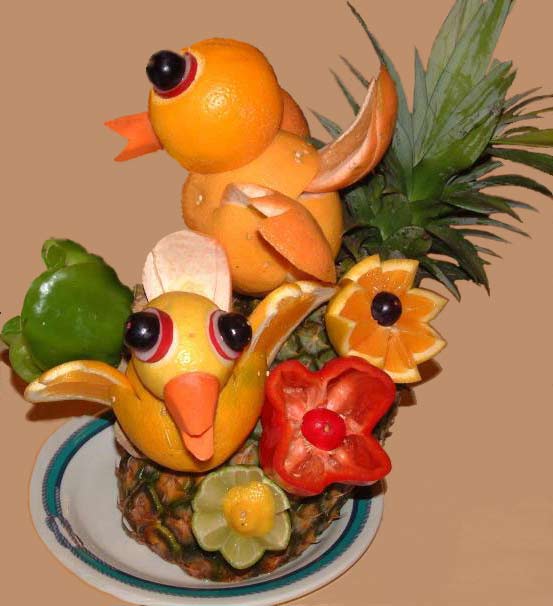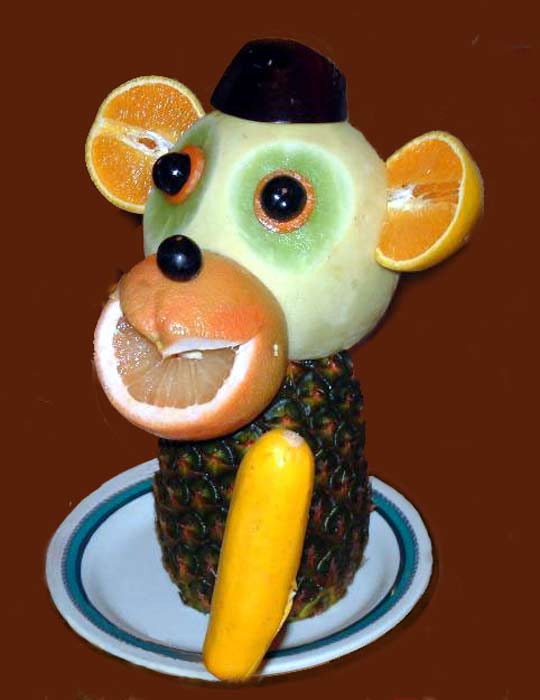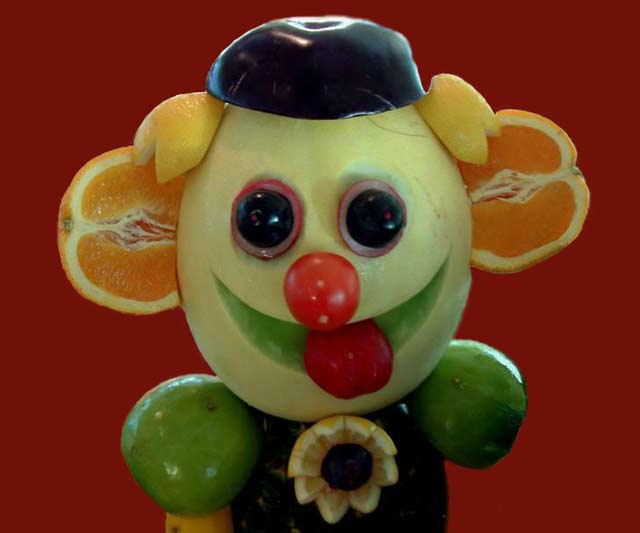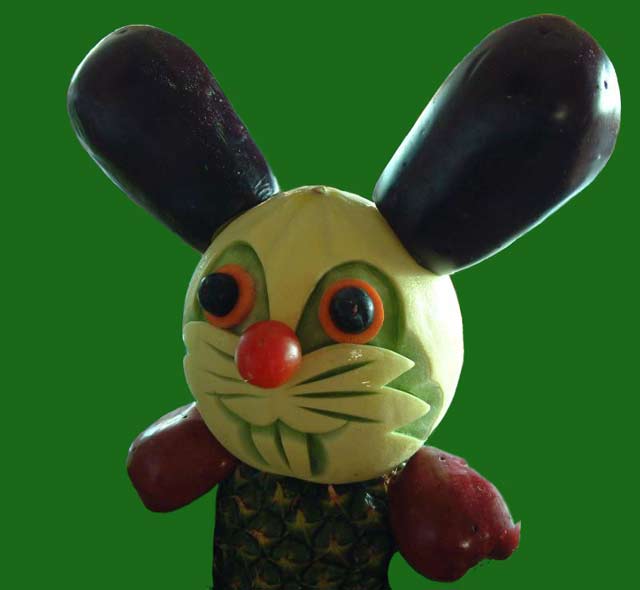 The average time for a carving is about four-and-a-half hours, and that most pieces will last five days if kept moist and refrigerated. The average cost is US$50 - 200.
Or - you COULD try your hand at it yourself carefully using an exacto knife...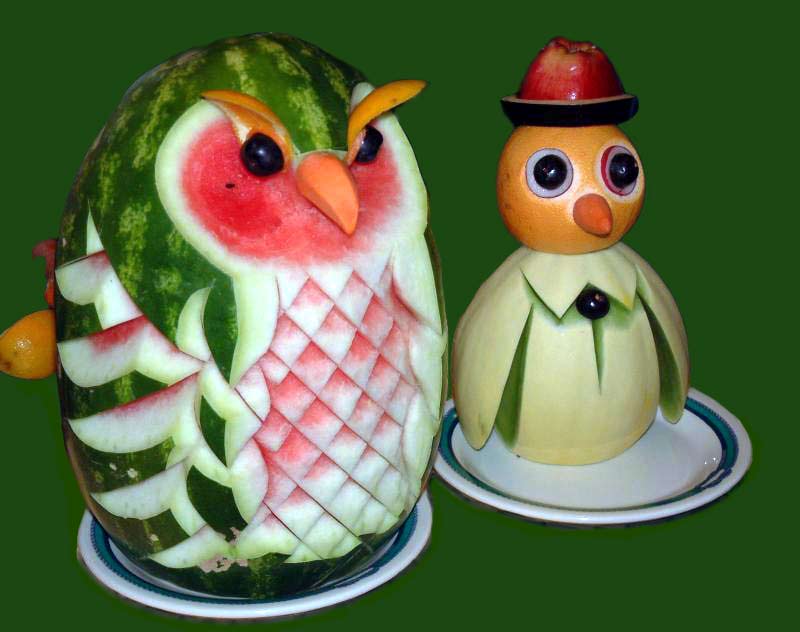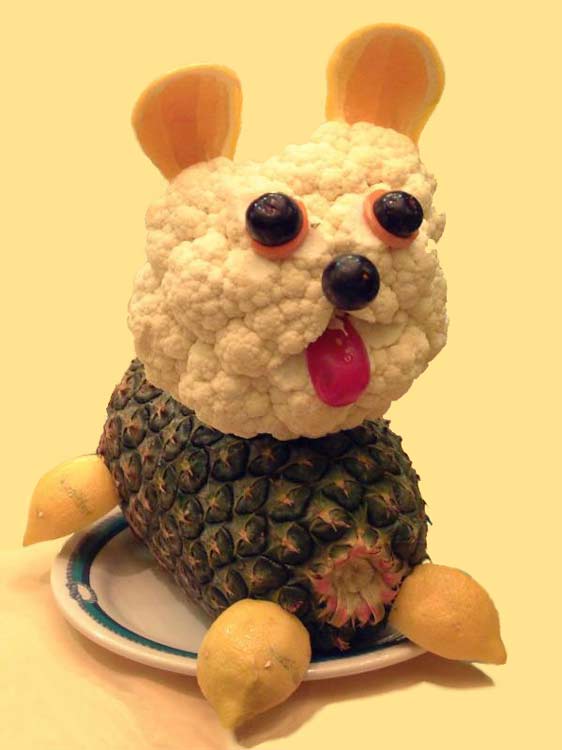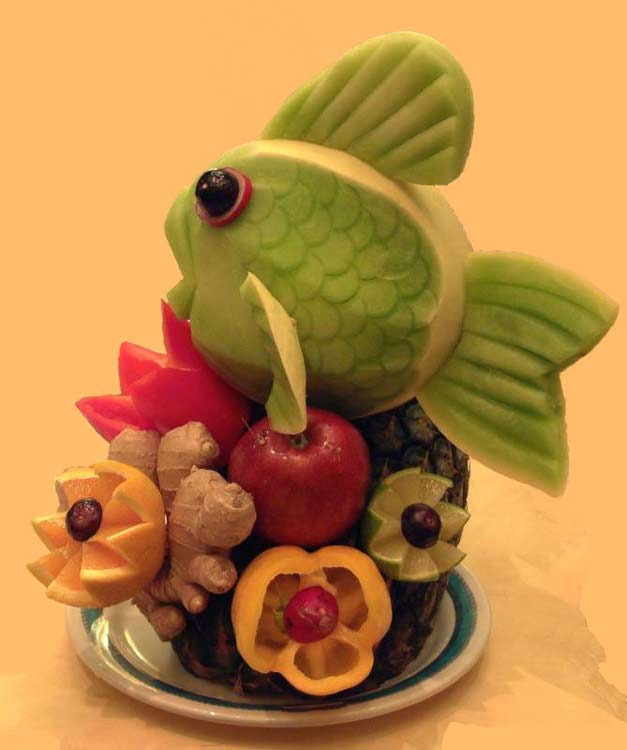 Would you prefer to start on something simpler?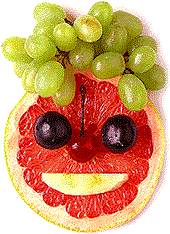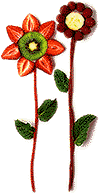 Sources: www.zwire.com/site for text and familyfun.go.com for the small illustrations. You might try that site for instructions on how to make the simpler items to get you started. They suggest:
Eyes and Noses: Peas, corn niblets, carrot rounds, black olives, black beans, cereal, nuts, seeds or raisins.

Hair:

Broccoli or cauliflower florets, grapes, fresh dill or parsley, or cooked fusilli or other curly pasta.
Legs: Thin celery or carrot strips or pretzel sticks.
Glues: Peanut butter, mayonnaise, cream cheese, jelly, yogurt, catsup, mustard, pizza sauce or honey.
Labels: culinary art