Beauty is in the eye of the beholder; Beauty is art. To celebrate beauty where ever we may find it. All that delights the senses, visual, auditory, taste, touch and be it natural, man made, culinary - eye candy in general and sensory delights.
Sleight of Hand -Hand Art
Guido Daniele, an artist that uses hands as his canvas.
Meet Hand Artist Guido Daniele
large text
Guido Daniele was born in Soverato, Italy and now lives and works in Milan. He attended Brera Artistic High School and graduated from Brera School of Arts in 1972.
After graduating, he lived in India where he attended the Tankas school in Dharamsala. Since 1968, Guido has been painting and participating in individual and group art exhibitions. In 1972 he started working as a hyper-realistic illustrator working with major editing and advertising companies and began testing different painting techniques. Since 1986 he has been airbrush painting and paints backdrops for magazine layouts and print advertising, television commercials and television programs. Guido also creates trompe l'oiel, both for private homes and public buildings.
In 1990, Guido added a new artistic experience to his previous ones: body painting. He paints models' bodies for advertising, commercials, fashion shows and exhibitions. His personal artistic research has recently led him to combine two traditional portrait techniques: photography and oil painting.
Check out a slideshow of Guido painting.
What a video of Guido at work.
The Cheetah was his first hand work, and his favorite.
Painting the Cheetah. Guido uses his son and daughter as canvases. His paintings take an average of three to four hours to execute so he needs someone to sit still without shaking.
Eagle............................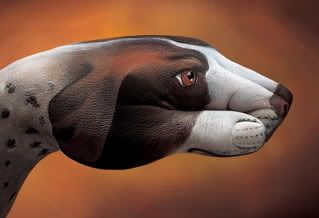 Hound Dog..................
Elephant......................
Double wing spread Eagle - took ten hours to paint.
Artist with hand painting of Kitten.
Taken from Reader's Digest, December 2006. To see a slide show of Guido's work, click on to
http://www.rd.com/hands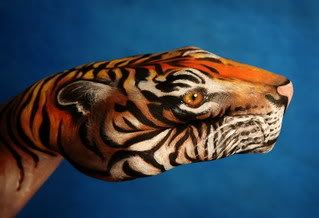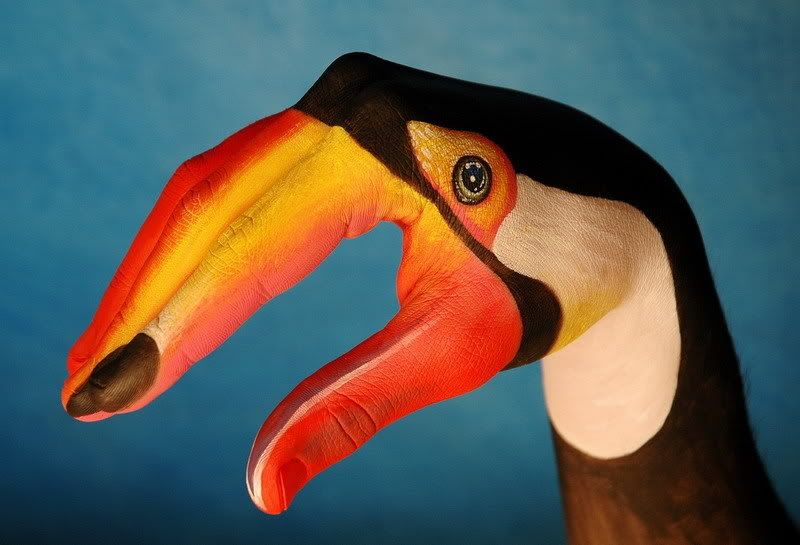 Model: skin art
Labels: hand art